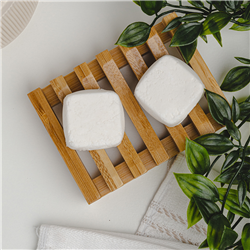 (Enlarge Image)
Please Note: this kit does NOT include a fragrance oil. You'll need to purchase one separately to fragrance this product!
NOTE: Wear a mask when working with Lanthanol Powder (SLSa). It's a very fine powder that becomes airborne quickly.
In a large mixing bowl, combine 7.70 oz Baking Soda, 5.72 oz Bubble Cake Hardener, and 4.62 oz SLSa. Whisk gently to combine, breaking up any clumps.
Add 1.32 oz Bubble Up and gently fold in with a spatula.
Add 2.42 oz Glycerin and gently fold in with a spatula.
If desired, add up to 1% (0.22 oz) Fragrance Oil and fold in.
Gently knead the mixture with gloved hands until it forms a dough.
Begin filling the mold by breaking off a piece of dough and packing it in each cavity. If the dough gets too dry and starts crumbling, add a little more glycerin to hold it together.
Allow bars to harden 24-48 hours in the mold. Note: time may vary depending on the humidity of your environment.
Gently remove hardened bars from the mold and package as desired.
Label product accordingly.
To Use:
Crumble one bubble bar under warm running water. Enjoy a nice, relaxing bubble bath.
Ingredient Label:
Baking Soda, Potassium Bitartrate, Sodium Lauryl Sulfoacetate, Glycerin, Cocamidopropyl Betaine, Fragrance