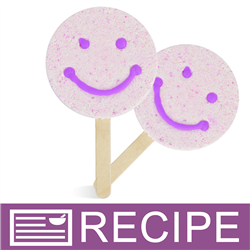 (Enlarge Image)
NOTE: If you are making these products for sale, good manufacturing practices recommend you wear a hairnet, gloves and a mask. We also recommend a clean apron and workspace.
The powders used in this recipe become airborne easily making a mask important to wear.
To large mixing bowl, add sodium carbonate, bubble cake hardener and lathanol. Blend with wire whisk.
Drizzle glycerin, bubble up and fragrance over mixture. Mix with gloved hands until well incorporated.
Add red liquid color onto mixture. Mix well. Color will speckle slightly.
Place molds on cookie sheets. Press mixture firmly into one mold cavity filling half way. Place stick into mold so it is positioned half way into bubble wand. Add more mixture until the cavity is completely filled. Continue in this manner until all five wands have been made. Let harden overnight.
Carefully remove from molds and set on cookie sheet.
To plastic beaker, add cocoa butter. Melt in microwave. Add baking soda and neon purple powder and mix.
Carefully fill in the eyes and smile. If mixture thickens, reheat for 5-6 seconds. Let wands dry.
Wrap each bubble wand with plastic wrap, leaving the stick uncovered.
Make a slit in one flap of the soap box. Close that end then place bubble wand into the box pushing the stick through the slit.
Label product accordingly. Wands should weigh approximately 2.75 oz.depending on how full they are packed.
To Use: Wave bubble wand back and forth under running water to create bubbles. Let dry between uses.
Ingredient Label:
Sodium Carbonate, Potassium Bitartrate, Sodium Lauryl Sulfoacetate, Glycerin, Cocamidopropyl Betaine, Fragrance, Red 33, Cocoa Butter, Baking Soda, Polyester-3, Manganese Violet.