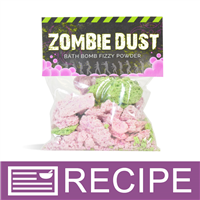 (Enlarge Image)
NOTE: If you are making these products for sale, good manufacturing practices recommend you wear a hairnet, gloves and a mask. We also recommend a clean apron and workspace.
Add baking soda, citric acid and white kaolin clay to a large mixing bowl. Break up any clumps with whisk or gloved hands.
Divide mixture between two bowls (13 oz. to each bowl).
To first bowl, add blue and yellow lake powders and mix well to blend. Add more color if desired.
Add 0.30 oz. fragrance oil and 0.80 oz. Bubble Up quickly mixing with gloved hands (mixture will be wet and sticky, but do not overmix).
Quickly spread evenly onto jelly roll pan and set aside to harden for 12-24 hours. (Mixture will foam up to about twice its size and will harden and deflate when dry.)
To second bowl, add purple powder and whisk to blend.
Add 0.30 oz. fragrance oil and 0.80 Bubble Up and blend mixture the same way as the green. Spread onto cookie sheet and set aside to harden.
Remove the Zombie Dust from both pans using either a metal spatula or soap cutter and chop up into smaller pieces.
Fill 18 bags by alternating colors, filling each bag to 1.30 oz. by weight.
Label accordingly.
Here is a link to a label you can print to dress up this product: https://www.wholesalesuppliesplus.com/pdfs/labels/ZOMBIE-DUST-LABELS.pdf
To Use: Sprinkle under running water in bathtub to create bubbles.
Ingredient Label:
Baking Soda, Citric Acid, Kaolin, Cocamidopropyl Betaine, Fragrance, Fluorphlogopite, Titanium Dioxide, Tin Dioxide, Manganese Violet, Blue 1 Lake, Yellow 5 Lake.